Regimental Headquarters
The Comanding Officer
Colonel Steven Abolt
Where has the time gone? Has it really been 20 years? One look in the mirror tells me it has.
In 1989 when this unit began who could have dreamt of the successes and reputation we have now earned. Well, WE did!
From hand sewing the largest garrison flag currently in the US, when told we couldn't. To having our 1841 Standard and Color fly atop the Casa Mata in Matamoros by invitation, when told no American flags would ever fly again in Mexico. To having the highest honor imaginable of being presented a complete set of battle streamers carried by the active duty Regiment, this unit has made its hallmark accomplishing the impossible.
Our members come from all walks of life and from all income brackets. They are united in more than their enjoyment of 19th century military history. They are all patriots who view this country and its past as something to be treasured, and promulgated to all who will listen.
For 20 amazing years the individuals who make up the 7th USILHA have honored me by allowing me to serve as their commanding officer. That trust is something I never take for granted.
As you journey through our page and come to meet many of our members ask yourself if what we do is something you value as well.
If so, check out our event schedule and come meet us in person. See what we do and how we do it. Anyone can type platitudes on a webpage. As my dear departed father was fond of saying: "If you gotta tell 'em you is, you ain't."
Our members look forward to meeting you and sharing their passion for this great Regiment. Come see us and find out what it means to be: "Cottonbalers, By God! Damn fine soldiers."
Steven Abolt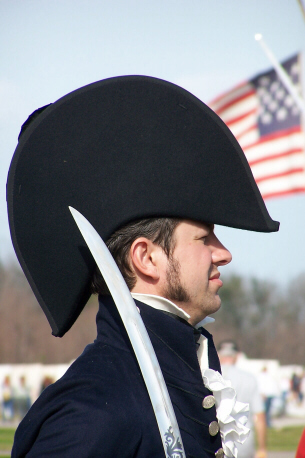 The Aide-de-Camp
Lieutenant Scott McMahon
After having been involved in various reenactment and living history groups for a number of years I finally found a permanent home with the 7th USI Living History Association in 1998. Since that time I have been heavily involved in various aspects of the unit ranging from simple participation to helping to organize and host large scale events. My desire to constantly be at the forefront of quality and unique events has meshed well with the ideals of the members and leadership of the unit.
In 2005 I was honored with the promotion to 2nd Lt. and given the post of Aide-de-Camp to Maj. Abolt. Since that time it has been my pleasure to work with the staff of the US Southern and Northern Divisions as well as the staff of the Crown Forces at various events. Though this is a hobby, I take my post as ADC seriously and constantly strive to honour the men of the historic and active duty 7th Infantry and I know my actions represent them whenever I wear the uniform of a Cottonbaler!
Having said all of this and knowing the men and women of the unit, I will say that all members of the 7th USI feel the same way about their jobs. We all strive to be the best we can from the top to the bottom and back again, and that is what makes this unit work! We are more than just another living history organization, we are a family and each of us can depend on the man next to him for support when it's most needed. I believe we truly embody the regimental motto, "Cottonbalers By God! Damn Fine Soldiers!"
Scott McMahon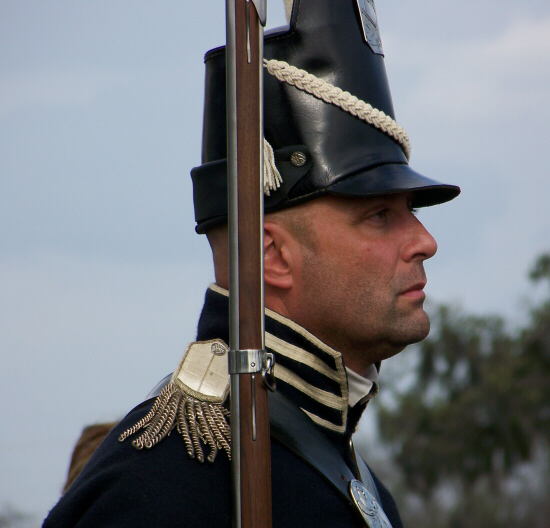 The Regimental Sergeant Major
Sergeant Major John Lawrence
It has been an honor and a privilege to serve as the senior NCO for the 7th U.S. Infantry Living History Association. Enlisted rank in the unit is earned through hard work and displaying the leadership qualities needed to keep a reenactment unit functioning smoothly. Some of our NCO's are prior service military while others are civilians who have shown they "get it".
As we operate as a military unit while in the field, it is vital that our people in leadership positions work well with each other and the men in the ranks. No one has to show up for an event. There has to be trust in the NCO's that they will be working with their men's best interest in mind. The 7th is a unit where the more rank you carry, the harder you work. That is why no one messes with the cook.
John Lawrence
UPDATE!
In the past we have created coins for special events hosted by the unit. It has been far too long since we have done so, and we have a very special event coming up. In honor of the 7TH US Infantry earning the title "Cottonbaler" 200 years ago come 8 Jan 2015, I have personally commissioned a new challenge coin. Our web master, #58, has posted pictures along with this message of the coin I have already given to him in thanks for all of the work he puts into this unit outside of events. There are a limited number of these coins available. They will be awarded to members who have also gone the extra mile to make this unit what it is today. This is my way of saying "thank you" to those men and women that contribute so much so that we can have such a unique and special living history group. I am proud to call you my friends. You all hold a special place in my heart. I look forward to seeing you at Mississinewa and/ or New Orleans.